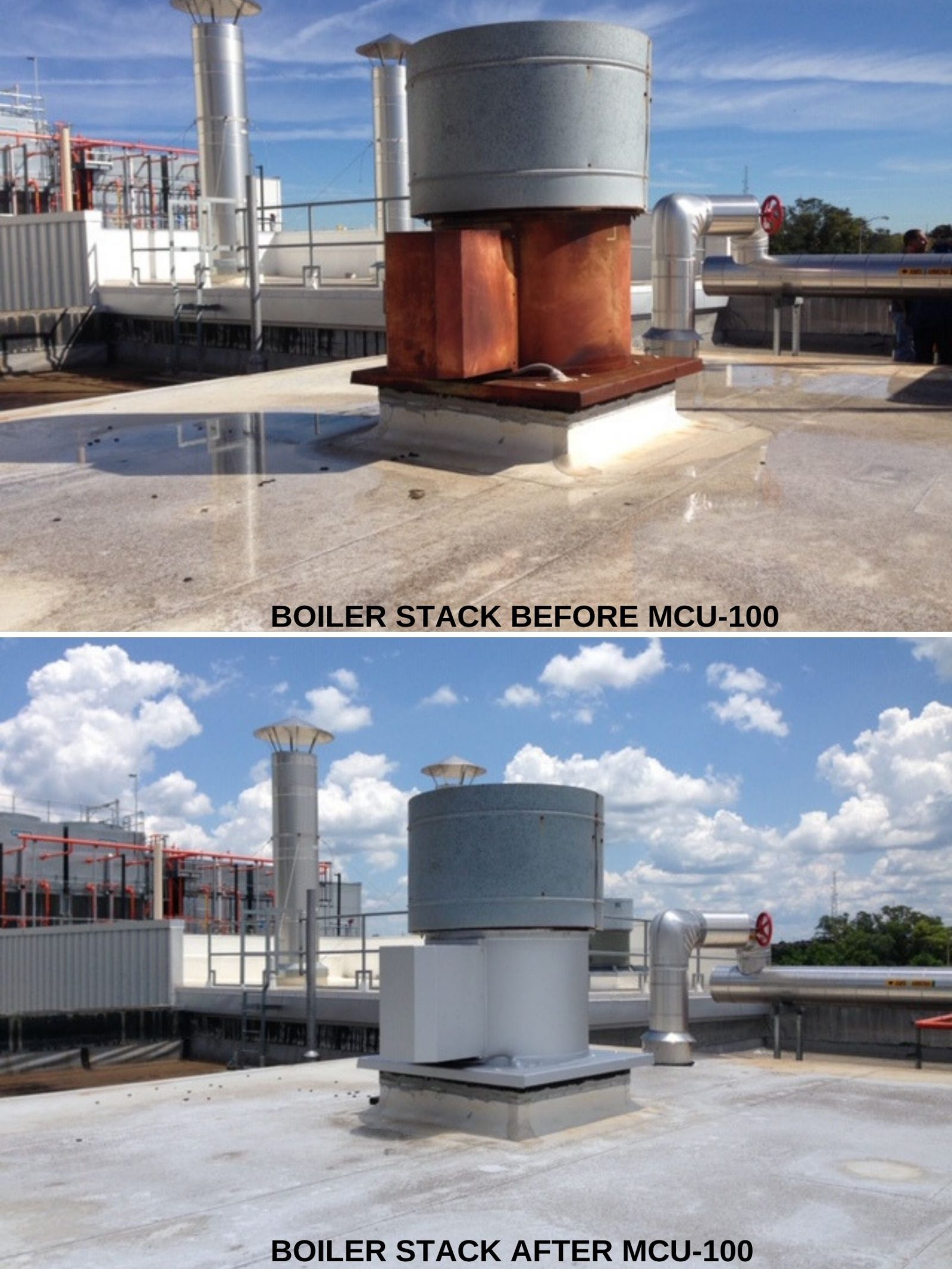 What is a Moisture Cured Urethane?
A Moisture Cured Urethane is, as the name implies, a coating that cures in the presence of moisture on a surface or moisture in the air. It is a one component, high performing coating that has excellent adhesion to marginally prepared surfaces. MCU's are designed to cure in cold weather and can handle higher heat temperatures than most Epoxies. Our key moisture cured coating is called MCU-100 Moisture Cured Urethane Aluminum Primer/Finish Coat.
How does our MCU-100 work?
Our MCU-100 Aluminum Primer resin is an efficient surface moisture scavenger. This results in a chemical reaction between the resin and water to form the final urethane film.  This chemical conversion occurs quickly, allowing fast recoat of the MCU-100 coating. Because the water has been removed from the metal surface, the oxidation (rusting) process has been interrupted. The cured polymeric film formed by MCU is very resistant to moisture transmission through it. This property is further enhanced by the aluminum present because any moisture coming in contact with it causes it to form a very tight thin surface that stops moisture from penetration any further.
This tight film provides excellent corrosion and abrasion resistance.  MCU-100 is also used as a finish coat over epoxy coatings or by itself in a two or three coat system.  MCU-100 can be recoated in 1-2 hours at 75°F and cures down to 18°F on dry surfaces.  It will perform up to 400°F on dry surfaces.
Some key features of the MCU-100 vs. traditional 2K Epoxies:
MCU-100 ALUMINUM
TRADITIONAL 2K EPOXIES
1 Component
2 Component
Fast Dry Time – 1-2 Hours at 75°F, 50% RH
Slower Dry Time – Usually at least 4 hours – overnight
High heat resistance – 400°F
Most epoxies can't handle dry heat past 250°F

Easy to use – all you need to do is stir for

1-2 minutes

Needs to be drill mixed for 3-4 minutes
Can be used over sound, tightly adherent rust where only wire brush or hand tool cleaning is feasible.
Designed for blasted surfaces
What is MCU-100 designed for?
To protect metal, concrete and wood surfaces in chemical plants, refineries, pulp and paper mills, waste and water treatment plants, electric generating stations, fertilizer plants, food processing, pharmaceutical, ore processing operations, marine installations to name a few. Also, other general uses included metal buildings, hand and guard rails, pumps, pipelines, grating and other hard to clean surfaces.