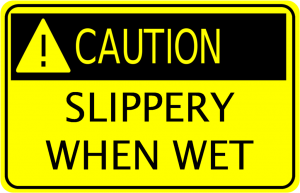 At Industrial Facilities all over the world, safety is a top priority for business owners. When choosing a floor coating for your facility, it may be necessary to use an anti-slip additive, a ready mix epoxy non-skid, or a seed-in floor system. Prior to coating a floor, a floor coating contractor should consult with the owner to determine several things: Will the floor sometimes or never be wet or dry? Is the surface going to be flat or at a slopped angle? How important is aesthetics? Is the floor going to have forklift traffic? Is gloss and color retention important? With many different additives and products out there, it's important to understand the different options for obtaining a textured finish. Always ask what is the owner's expectations. A test patch sample may be required to determine that the proper degree of non-slip has been achieved. Here's 3 different systems you can use to achieve a slip resistant finish:
Mix the grit directly into the coating. Gulf Coat Paint's CT-332/352 Polyester Polyurethane is used this way. Mix in 1-5 OZ. per gallon of our S-15 Polymeric Non Skid to achieve a textured non-skid in the finish coat.
The next option is the broadcast/seed-in method. Gulf Coast Paint's CM-15 Epoxy Mastic and PC-636 Phenalkmine Epoxy are both great products for this application. Some common aggregates used for broadcasting include sand, aluminum oxide, and garnet. Generally, the contractor will roll out the floor coating, then come back within a few minutes and broadcast their aggregate into the coating. You can back roll the seed floor to encapsulate the aggregate. Some refer to broadcasting as "throwing chicken feed". After the coating has dried, it is important to sweep up the excess aggregate. A finish coat of CT-332/352 Polyester Polyurethane can be applied a finish coat to help increase abrasion & impact resistance.
Apply a ready to use Non Skid Coating. Gulf Coast Paint's PC-650 Epoxy Non Skid is a ready to use, easy to apply non-skid. When the floor is ready to be coated, mix the product and pour a ribbon approximately 2-3 feet long and 6 inches wide. Use a phenolic core roller to achieve a heavy duty, aggressive finish, or you can use a flat blade squeegee or trowel to achieve a less aggressive finish.
For more information about Gulf Coast Paint's Floor Coatings, contact Todd Theis at 251-964-7911 or todd@gulfcoastpaint.com.