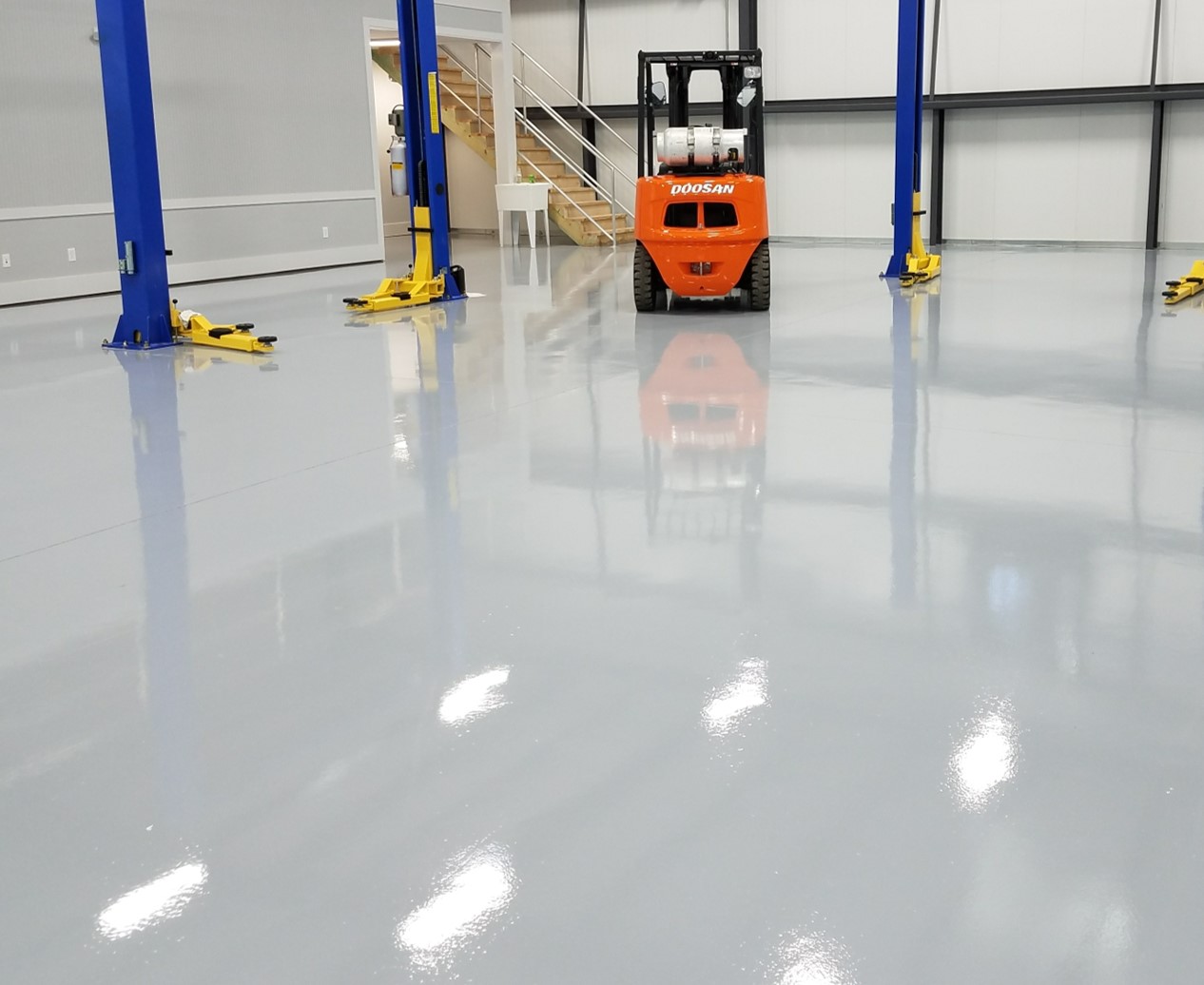 Finding the proper concrete coatings system for your floor can be an overwhelming and difficult decision. There are many reasons why you would want to coat a concrete floor. Concrete coating applications can range from industrial settings such chemical plants or warehouses, to food and beverage facilities, to aircraft hangars and automobile floors, just to name a few.  Decision makers, such as engineers, architects, or facility managers are tasked with finding the most effective product and application that will result in the highest performance. Let's take a look at a few steps to ensure that the proper coating system is chosen.

1. Why do we need to Coat Concrete?
Protection from Wear & Tear:
Coated concrete gives your floor a longer life expectancy. Heavy vehicular traffic, such as forklifts, can take a major toll on uncoated concrete. High performing two component floor coatings will protect your concrete and allow it to last many years without needing a lot of repair work.

Resistant to Chemical Attacks:
Uncoated concrete is susceptible to a large variety of chemicals. Whether its acids, caustics, salts, or any other chemical, the life expectancy of your floor can be shortened by these chemical attacks. Knowing the exposure and concentration percentage of the chemical are the key factors in the selection of the right coating system.

Aesthetics:
Coating your floor will give you an attractive, shiny and easy to clean floor. Besides aesthetics, a bright and shiny floor will increase the light reflection which leads to a safer facility. Decorative floors may also be a consideration, e.g., offices, labs, break rooms, etc. Metallic Epoxy Floors, Flake Floor Coatings, and Color Quartz systems add a "wow" factor to your home or business.

Safety:
Slips and falls are the most common workplace injury. Anti-Slip Coatings & Non Skid Coatings play a key factor in providing the proper surface profile that will help provide safer traction & footing. These coatings have excellent abrasion and impact resistance.

2. Evaluating the Current Floor Condition:

The next step in the selection proves is to evaluate the existing concrete so you can figure out what you're working with. Is it bare concrete or does it have an existing coating system? Existing floors may be recoated depending on what coating is on the concrete and the condition that it's in. The surface must be structurally sound and clean.  Any unsound areas must be repaired prior to proceeding with the resinous installation. Epoxy Crack Fillers and Epoxy Mortars are excellent choices for spalled and damaged concrete that needs to be repaired. Oil, grease, dirt, dust, chemical contaminants, and any other foreign materials need to be removed. For new concrete, there's several methods of surface preparation that can be used to achieve the proper profile. We always advise checking with the coatings manufacturer to see what they recommend.  For thin film coatings systems, which typically achieve a dry film thickness (DFT) of 3 – 10 mils and high build coating systems, which usually range in DFT from around 10 – 40 mils, shot blasting or diamond grinding to achieve a CSP-2 or CSP-3 profile, in accordance with the International Concrete Repair Institute (ICRI) is what we recommend. Acid etching may be acceptable depending on the situation. Check out Gulf Coast Paint's full guide to acid etching concrete.
 

3. Selecting the Coating System:
The last step is the coating selection process. There are numerous questions to ask so you can figure out what direction you want to go. When evaluating different coatings, it is critical to first understand the intended service environment, and then to match the coating to the specific environment.

If you would like to learn more, explore our list of common questions to asks a representative when coating a concrete floor.
Some of the most common questions include:
·         What type of traffic is going to be on this floor?
·         Has the moisture content of the floor been evaluated?
·         Do you expect any chemicals to spill on this floor?
·         Is a non-slip surface needed?
 
These are just a few questions that will help with the selection. There are so many different formulations on the market and deciding which direction to go can be challenging. The most common coating types that are used are epoxies and polyurethanes. Epoxies can be used as a primer, intermediate and topcoat depending on application. Epoxies are known for their superior adhesion and chemical resistance.  Lots of floors start with an epoxy primer (usually a 100% solids epoxy floor coatings or high solids epoxy floor coating) then will be followed by another coat of epoxy or polyurethane.
Polyurethanes have outstanding abrasion and wear resistance, excellent gloss and color retention, and most provide outstanding resistance to hot tire pickup. Polyester Polyurethanes and Moisture Cured Urethanes are two of the higher performing urethane coatings that are used. There are also low odor polyurethanes on the market which provide many benefits including a low VOC content and ability to use in many different applications due to the low odor. If a quick return to service is required, there are accelerators for the polyurethanes or a polyaspartic may be recommended. If chemical resistance is needed, there's a variety of Cylco-Aliphatic Epoxies, Epoxy Novolacs, and Vinyl Esters to choose from. Secondary containments and battery charging stations are two common applications where Cylco-Aliphatic Epoxies and Epoxy Novolacs are used. Vinyl Esters are used in some extremely harsh chemical environments where novolac may not be acceptable. Other coating options that are commonly used in the flooring industry include MMA's, Polyureas, and Acrylic Sealers.  If you are having trouble figuring out which coating to select, check our article on Choosing Epoxies vs Polyurethanes.
 
With the right concrete coatings, your floor will benefit from additional protection and provide the longevity that business owners and facilities are looking for. A properly installed concrete floor coating system that is catered to your needs will help eliminate concerns over spilled chemicals, heavy traffic, or whatever your need may be. Gulf Coast Paint Mfg. has been helping engineers, architects, contractors, and facility maintenance managers with coating recommendations since 1976. Our high performance coatings are designed to meet a wide array of applications for concrete and steel.  For questions or technical assistance, contact us at 251-964-7911 or info@gulfcoastpaint.com.